Basic and common phrases in Spanish for beginners
So… Are you studying Spanish? Or are you about to visit a Spanish-speaking country? Well, you can't do either of these things without knowing a few of the most common phrases in this language.
Find a private Spanish teacher
Remember! These common phrases should not act as a substitute for any kind of formal education. They are patches to solve specific situations where not knowing the language may get you in trouble or cause a minor inconvenience. However, you should try to find a more suitable method to learn Spanish.
With that in mind, let's dig a bit deeper on the Spanish language:
These are the most common phrases in Spanish
Greetings
If you want to give a good first impression, you need to know how to introduce yourself and greet the native speakers properly. You may greet someone differently depending on the time of the day or depending on how close you are. It is important to know the proper way of introducing yourself.
Let's see some of the most common greetings:
| | |
| --- | --- |
| ENGLISH | SPANISH |
| HELLO | HOLA |
| GOOD MORNING | BUEN DÍA |
| GOOD AFTERNOON | BUENAS TARDES |
| GOOD EVENING/GOOD NIGHT | BUENAS NOCHES |
| WELCOME | BIENVENIDOS |
| NICE TO MEET YOU | ENCANTADO/A DE CONOCERTE |
| A PLEASURE | UN PLACER |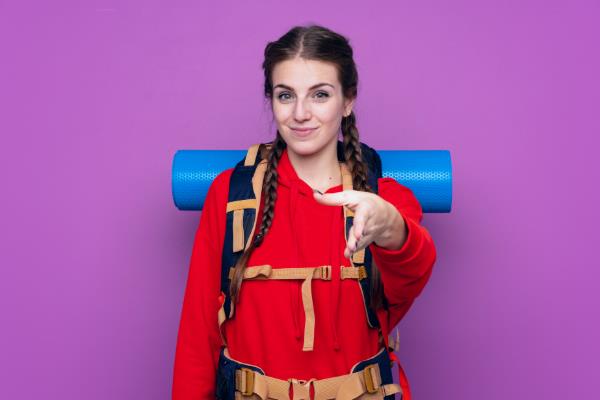 In Spanish, you need to take into account the feminine and masculine endings of some adjectives. Depending on your gender (if you identify as male or female), you will end some adjectives in -o (male) -a (female). E.g: encantado (male), encantada (female).
Asking for something
So, now that you've met someone, you can start asking questions them questions. But before we dig into their personal history, we may want to know something more urgent like where's the bathroom or what time it is.
First and foremost, you need to know the interrogation particles:
| | |
| --- | --- |
| ENGLISH | SPANISH |
| WHY? | ¿POR QUÉ? |
| WHO? | ¿QUIÉN? |
| WHAT? | ¿QUÉ? |
| WHERE? | ¿DÓNDE? |
| WHEN? | ¿CUÁNDO? |
| HOW? | ¿CÓMO? |
| HOW MUCH? | ¿CUÁNTO? |
These are the basics but you may need to add something else to the particles. Be careful because when and how much may sound very similar but are written differently. Cuándo vs Cuánto. Pronunciation may be similar but the spelling is not the same.
Here we have some sample sentences for common situations on which it's useful to know a few things in Spanish:
| | |
| --- | --- |
| ENGLISH | SPANISH |
| HOW DO YOU SAY X IN SPANISH? | ¿CÓMO SE DICE X EN ESPAÑOL? |
| WHERE'S THE BATHROOM? | ¿DÓNDE ESTÁ EL BAÑO? |
| WHAT TIME IS IT? | ¿QUÉ HORA ES? |
| HOW MUCH DOES IT COST? | ¿CUÁNTO CUESTA? |
| WHO IS THAT? | ¿QUIÉN ES ESE/A? |
Besides these sentences, it is also important to know how to get around. If you traveled somewhere abroad and your google maps is not working, you may have to ask for directions. But don't panic, we've got your back.
This is the ABC of asking for directions:
Basic questions:
| | |
| --- | --- |
| ENGLISH | SPANISH |
| EXCUSE ME, WHERE IS THE X? | PERDONA, ¿ DÓNDE ESTÁ X? |
| DO YOU KNOW HOW CAN I GET TO...? | ¿SABE CÓMO PUEDO LLEGAR HASTA...? |
Basic replies:
| | |
| --- | --- |
| ENGLISH | SPANISH |
| TURN RIGHT | GIRA A LA DERECHA |
| TURN LEFT | GIRA A LA IZQUIERDA |
| KEEP STRAIGHT | SIGUE RECTO/TODO RECTO |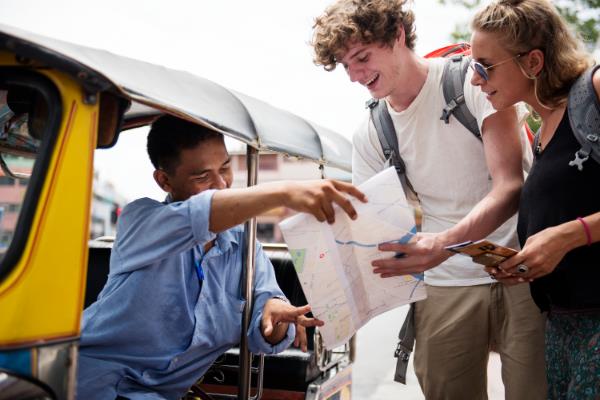 Now, worst-case scenario, you arrive late to a meeting because you got lost even though you asked for directions. It's okay. Here are two ways to apologize:
| | |
| --- | --- |
| ENGLISH | SPANISH |
| I'M SORRY | LO SIENTO (INFORMAL) |
| APOLOGIES | DISCULPAS (FORMAL) |
Asking for personal information
You are capable now of surviving on your own in a foreign Spanish-speaking country. But you want to get to know the locals, maybe meet some friends or talk to someone you fancy. The point is that you need to have the tools to have small talk with someone you just met or you want to know better.
What questions do you ask? Here are some examples:
| | |
| --- | --- |
| ENGLISH | SPANISH |
| WHERE ARE YOU FROM? | ¿DE DÓNDE VIENES? |
| WHERE DO YOU LIVE? | ¿DÓNDE VIVES? |
| HOW OLD ARE YOU? | ¿CUÁNTOS AÑOS TIENES? |
| WHAT IS YOUR NAME? | ¿CÓMO TE LLAMAS? |
| WHAT IS YOUR PHONE NUMBER? | ¿CUAL ES TU NÚMERO DE TELÉFONO? |
| HOW ARE YOU? | ¿CÓMO ESTÁS? |
You may expect different answers and the replies can be far more complex. Let the other person know that you are not fluent in Spanish and that they have to speak slowly and avoid complex grammatical structures. Here is an example:
Could you please speak slowly? = ¿Podrías hablar lento?
If the person you are talking to is polite or wants to know more about you, they may make the same questions. You need to be ready to reply and answer smoothly. It's still small talk so the replies shouldn't be too long or complex to understand. Here we have some examples:
| | |
| --- | --- |
| ENGLISH | SPANISH |
| I COME FROM... | SOY DE... |
| I LIVE IN... | VIVO EN... |
| I'M X YEARS OLD | TENGO X AÑOS. |
| MY NAME IS... | MI NOMBRE ES... |
| MY PHONE NUMBER IS... | MI NÚMERO DE TELEFÓNO ES... |
| I'M FINE/ I'M NOT FINE... | ESTOY BIEN/NO ESTOY BIEN |
How to express feelings and give support
If the situation requires it, you may need to express feelings and give support to a family member, friend or someone more than a friend. Don't let the language barrier deprive you of sharing a cute moment. Here are some of the most common expressions of love and support:
| | |
| --- | --- |
| ENGLISH | SPANISH |
| I LOVE YOU | TE QUIERO/TE AMO |
| I LIKE YOU | ME GUSTAS |
| I LIKE YOU AS A FRIEND | ME GUSTAS COMO AMIGO |
| I MISS YOU | TE ECHO DE MENOS |
| GET WELL | RECUPÉRATE |
| GOOD LUCK | MUCHA SUERTE |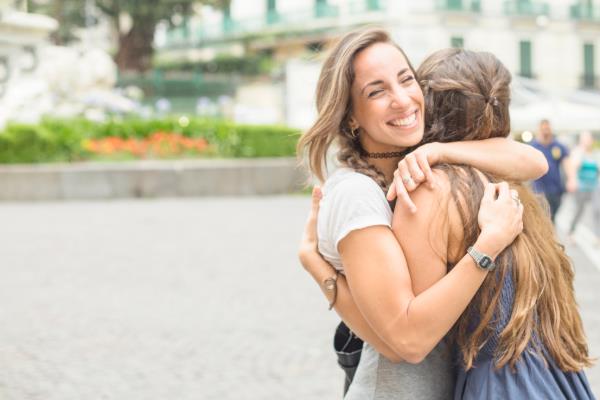 It is cute to emphasize the fact that the Spanish language has two ways of saying I love you. So, get out there and spread some love in Spanish.
Saying goodbye
It is appropriate to finish this post by taking a look at the different ways to say goodbye in Spanish. We choose the most common ones:
| | |
| --- | --- |
| ENGLISH | SPANISH |
| GOODBYE | ADIÓS |
| SEE YOU SOON | HASTA PRONTO |
| SEE YOU LATER | HASTA LUEGO |

You need to further your knowledge in Spanish if you want to end up talking like a native. This post is barely scratching the surface. If you really want to learn Spanish, there are many ways of learning the language without having to go into too much trouble. If you don't have much time for Spanish learning, you may be interested in finding a private tutor online to teach you at your own pace wherever and whenever you are.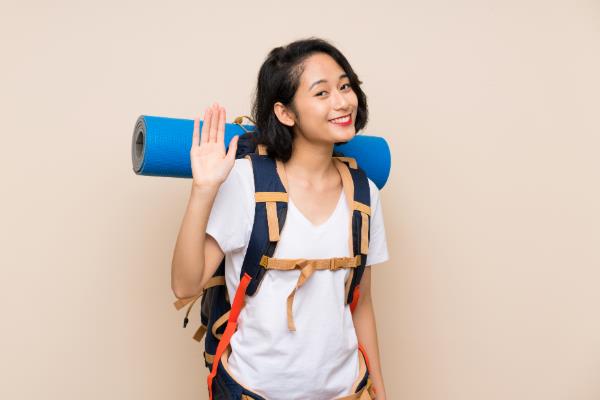 Classgap is a platform that offers the chance to meet the best Spanish teacher for every student. It also provides all the tools you may need to start the lessons such as a virtual whiteboard, webcam, and the option to share files. So, what are you waiting for? Try it now.
Find the perfect Spanish teacher
If you want to know more expressions in Spanish, let us know, and we will add them to the list!