How to learn Spanish online
Do you want to learn Spanish? This is the ultimate guide to all the different ways to learn Spanish online. We've listed all the methods available and we've selected the pros and cons for each of them.
The following options are not exclusive. As a student, you should try different methods but don't stick to only one. For example, if you only play videogames it's going to be hard to practice your speaking and gain fluency. Complement it with a private tutor or with an exchange language partner. Find a way to practice all the skills.
How to learn Spanish Online
Find a perfect Spanish teacher
Why should you choose online education?
Nowadays, technology is a part of our daily life. We've implemented our devices in our routine to ease some of the most tedious tasks. Education has changed by this unstoppable technological wave. And to be honest, it was about time. Traditional education is outdated. It doesn't connect with younger audiences as much as it used to.
But why? Why is online education more attractive? These are some of the main reasons that come to mind:
Flexibility: you can take classes whenever and wherever you are. You are not bound to rigid schedules. If you live a busy life, online education provides the best educational experience to balance work and studies. On top of that, you don't have to commute. It saves money and time.
Customized: you are the center of everything. There are no more students. It's just you. So the lessons are based on your needs. It is easier to track your progress this way. You or your teacher can detect your weaknesses as well as your strengths much faster.
More affordable: it tends to be cheaper. There's no need to buy textbooks or any other physical material. Furthermore, there's no need to commute so you can save money from train and bus tickets or gas. Some options can even be found for free. You only need wifi and a good laptop or phone, and you are ready!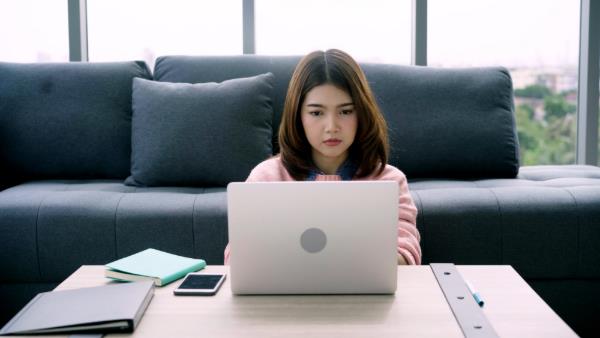 Online classes with a private tutor
Online education is sometimes more than just you against a computer. Some platforms offer a market of teachers from where to choose. Teachers with different teaching methods are available for every type of student. These platforms provide some students with the chance to a less isolated experience.
This option may not be for everybody. But it is a very reasonable and sensible choice:
Pros:
Customized learning: the teacher is focused entirely on your needs. They are there to solve any doubts you could have or repeat the lesson as many times as you want. It is your private tutor. Therefore you set the pace at which you want to learn.
Flexibility: you can choose when to have these private lessons. As long as the teacher you want is available, you can work your schedule around other things.
Friendly experience: It is usually better to talk to someone real rather than a machine. The empathy of a real teacher can help cope with the frustrations of the Spanish language.
A wide variety of teachers: the market is full of Spanish teachers and some may not fit your requirements, but it's important to keep trying. It is key to find a teacher with whom you have chemistry. You will want to talk about things you have in common.
Cons:
Compromise: if you don't have self-discipline, you need to start working on it. Online education requires motivation and a lot of responsibility if you want to go far. You don't have a solid structure or a solid study plan. You have to come up with one on your own.
Some of the platforms that offer this kind of service are:
Verbling: a platform that focuses on language learning through speaking.
Skype: A video-call program that lets you connect with another person to talk.
Classgap: a very intuitive platform with a wide range of Spanish teachers that provides the tools for the best educational experience.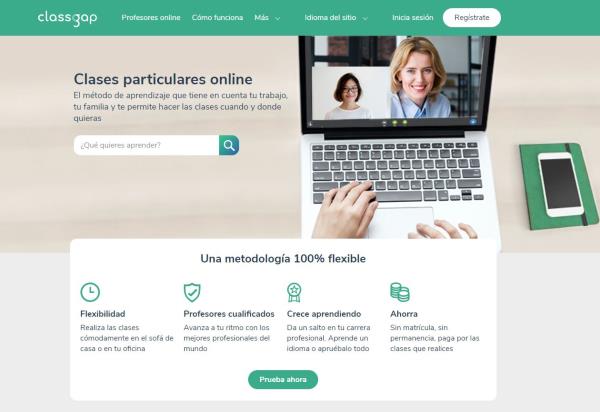 Choose the Spanish teacher on Classgap
Study with an online Spanish course
Another option is to choose online Spanish courses. What is the main difference between private lessons and online courses? Online courses offer a solid structure with a clear goal in sight without depending on anyone else. Each course fulfills a study plan based on the student's level.
Pros:
Wide variety of courses for all levels: you can find from complete explanations of the difference between the past tenses to a full-year course on the B2 level. You can choose the option that works best for you.
Extreme flexibility: study whenever and wherever you want. You don't have to depend on anyone. Not even a teacher. The courses give you the structure you need.
More affordable: Spanish is one of the most popular languages around the world. Therefore you can find a thousand different online courses focused on different language skills. Most of them offer high-quality material while being cheap and very affordable. Some platforms even have courses open to anyone, completely free.
Cons:
Not a customized learning experience: the focus of the educational experience is not going to be you. It is probably the standard type of Spanish student. These courses fulfill a specific goal without taking into account the diversity among students.
Hard to practice other skills: If you don't have anyone you can talk to, it is going to be hard to practice speaking. These online courses are great to learn vocabulary and grammatical structures. However, it is not great if you want to practice other skills.
Lack of social interaction: online courses do have a shortcoming. They put the student in a pretty isolated environment when things get difficult. It is up to you to solve the problems you don't understand, no one to guide you or comfort you in any way.
Platforms:
Memrise: an online platform with open courses created by a community of teachers and students.
Udemy: an online learning platform and teaching marketplace with different Spanish courses available for free or at an affordable price.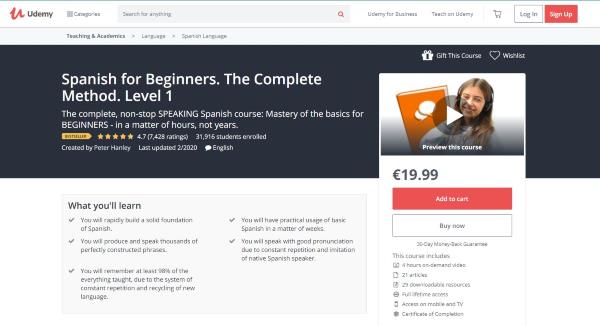 Try an App
If you don't have time for a full hour of in-depth studying, try learning through an app. Apps are a great choice if you don't have time to focus on long Spanish lessons. Learn the language while commuting or waiting in line at the bank. It's fast and easy.
Pros:
Some apps have a gaming component: most apps that focus on language learning feel like a game. They offer the student the experience to obtain badges, trophies, etc...To keep the students motivated. It is fun and entertaining.
Takes advantage of your idle time: it's a great choice for those moments where you can't do anything productive besides reading a book or using your phone. Learn Spanish through small and quick lessons.
More affordable: apps tend to be cheaper than other options when it comes to language learning. You can even find some apps for free.
Cons:
Not a customized learning method: The study plan doesn't adapt to every student profile. Your needs may require other learning methods. It's not a good fit if you require a more exhaustive explanation for example.
It has more limits: it is almost impossible to become fluent in Spanish studying only through an app. They are great at building the pillars but not the foundation. You will need to complement your studies with a private tutor.
Platforms:
Duolingo: a free app where you learn Spanish through different levels of difficulty.
Babbel: a paying app that works more or less like Duolingo but with a more complete study-plan.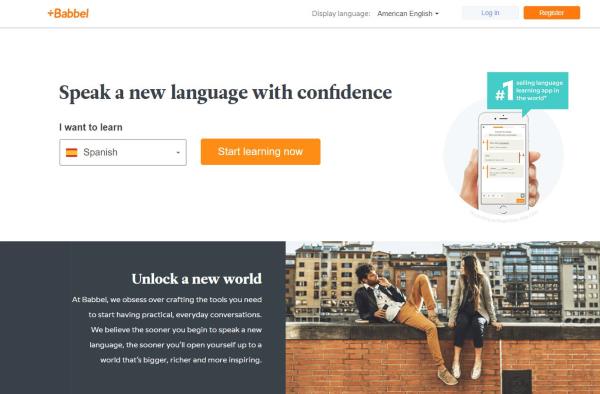 Watch Youtube Channels
Youtube, one of the biggest internet platforms available right now, can also be a tool to learn Spanish. It may be a challenge but if you don't have much money to spend it is a sensible choice. There are hours and hours of great content but you may have to spend some time sorting out the wheat from the chaff.
Pros:
They are usually fun and easy to follow: if you find a good youtube channel, the lessons are probably really light to engage the viewer. You will probably don't even notice how hard the Spanish language can be.
Small capsules of knowledge: youtube videos normally have the format of short lessons focused on specific topics. They probably don't cover dense and complex language issues but they will explain for example the ways to conjugate a verb.
Cons:
It is a passive learning experience: as well as with the apps or the courses, you don't get to practice the other skills such as writing or speaking.
It has limits: it's a flawed method because it doesn't allow you to reach fluency in Spanish. It is not enough.
It is not a customized learning method: if you have questions or doubts, there's hardly a way to ask them and find the answer you are looking for.
Youtube Channels:
SpanishPod101: short audio and video lessons with Spanish teachers.
Spanish Sessions: a youtube channel with free Spanish video lessons designed for adults.
Señor Jordan: Jordan, a native English speaker, teaches Spanish in a fun and entertaining way.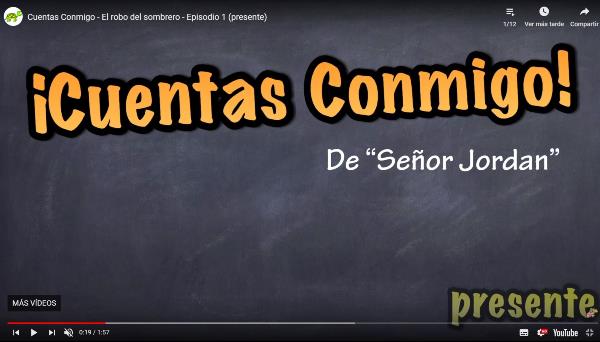 Play videogames
When talking about video games, we have to differentiate. There are didactic games that focus on language learning. Then there are games in which the language is easy to follow but don't focus on language learning. Both are great if you want to learn new vocabulary while having a good time.
Pros:
They have a gaming component: time flies when you are playing with your favorite video games. And if you sometimes have trouble concentrating in intense study sessions, maybe this is a good way for you to learn Spanish.
Different settings and situations: you will learn how to apply the Spanish language in different situations and contexts. It is a great chance to learn a wide range of vocabulary and slang.
A great way to complement a more standard education: it may fall short if you want to achieve complete fluency in Spanish, but it works great as a complement to another learning method. It allows you to relax and do something fun while learning.
Cons:
It should not be your only learning method: as previously mentioned, it should not be your only kind of education. It may allow you to learn new vocabulary and grammatical structures but it is not enough.
Videogames:
"Legend of Zelda: Breath of the Wild": an action-adventure game set in the Zelda timeline. The gamer controls Link in his quest to find Princess Zelda.
"The Sims": life simulation video game where the player controls virtual avatars called "Sims".
"Influent" (didactic game): a game where the players explore an interactive 3D environment.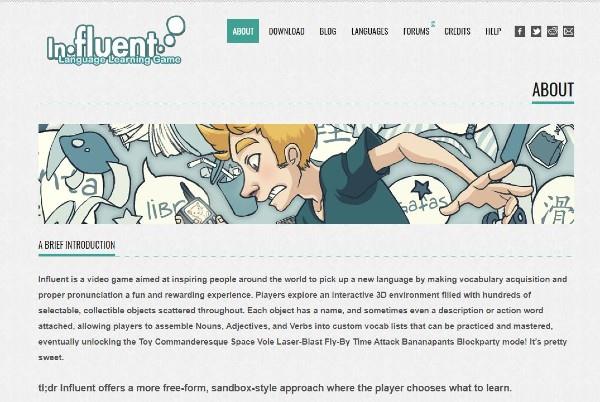 Listen to Podcasts
A podcast is an innovative learning method that is not only easy but it is also convenient. You can listen to the lessons on the bus, on your way to work or while washing the dishes. As long as you have a set of headphones and the episodes on your phone, you can learn anywhere anytime.
Here, we are going to differentiate between language learning podcasts and podcasts that are easy to understand but don't focus on learning Spanish.
Pros:
They train your ear: besides teaching you new things, they can train your ear to the Spanish way of speaking. Not only are you learning but you are also practicing your listening skills.
Entertaining and fun: lessons tend to be light and entertaining. It hardly gets tedious so you can listen to a bunch of them on one go.

You can learn while doing other things, more mechanical actions.
Cons:
Similar to youtube tutorials: it has a similar format. The episodes are quick lessons that focus on specific topics. It's not textbook material and it doesn't dive deeper than that.
Can't practice other skills: you learn the notions of grammar and vocabulary but you don't practice Spanish. It's a method that doesn't let you speak or write. It's hard to apply what you learn.
Podcasts:
Nómadas: a radio program in Spanish where the host speaks about different places around the world.
Coffee Break Spanish: a platform with different courses in a podcast format.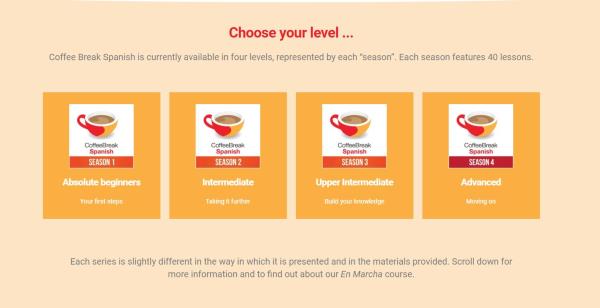 Watch TV Shows and Movies
The Spanish film and TV industry is very prolific. They also have a very big dubbing industry so most tv shows on Netflix, HBO or Amazon Prime can be found in Spanish. As long as you make some research, some TV-series and films are worth binge-watching in another language.
This should become a tool to complement a more sold education. It should never be your only learning method.
Pros:
You learn while watching your favorite shows: it is a really fun and entertaining way to learn a language. You are practicing while also watching something that you love. You will probably notice that time flies when you are binge-watching a good show. Now, you can also learn from it.
It covers knowledge from beginner's level to advanced: there are options for every type of learner. Some shows are more approachable while others require a higher level of understanding.
A chance to see the language used in different settings: you will have the chance to understand the difference between the informal Spanish and formal Spanish as the stories unfold in diverse settings.
Cons:
You don't practice other skills: you will never be able to accomplish complete fluency through tv shows and movies alone. You still need to practice your writing or reading. You won't learn spelling or formal written rules of grammar.
Subtitles are a must at the beginning: if you are a beginner learner, you will have to watch most tv shows and films with subtitles on. If you are not used to doing that, sometimes it can be annoying. It will take some time before you learn to love it.
There are three different ways of using TV shows and movies as a way to learn Spanish. You can choose what suits you best according to your level and fluency.
Watch the film/tv show with subtitles in English: you will get used to the way the language sounds. Maybe you will even notice the different accents. You can put the subtitles in Spanish if you are just starting.
Watch the film/tv show with subtitles in Spanish: if you are more confident in your Spanish skills, you should try watching a show with subtitles in Spanish. Not only will it help you build your vocabulary but it will also give you the chance to learn spelling and the formal written rules.
Watch the film/tv show without subtitles: it's not a sensible suggestion if you aren't an advanced student. You should only try it if you are fluent and recognize most of the vocabulary in the Spanish language.
Netflix TV Shows:
Narcos: a show about the infamous Pablo Escobar and the operations of the DEA to imprison him.
Paquita Salas: a show about a down-on-her-luck talent agent who struggles to find new talent for her outdated professional style.
La Casa de Papel (Money Heist): a show that follows an assault on the Royal Mint of Spain where a group of robbers takes hostages.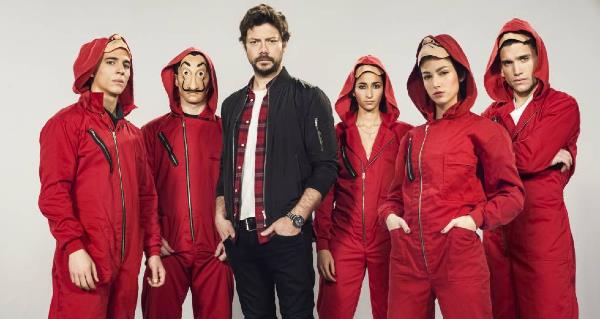 Netflix Films:
La Llamada (Holy Camp): a comedy film that follows two 17-year-old girls who love reggaeton and electro Latino while they spend their summer in a catholic camp.
Klaus: an animated movie about Jesper, the son of a wealthy family, who needs to prove himself to his parents by becoming the postman of a distant island town named Smeerenburg.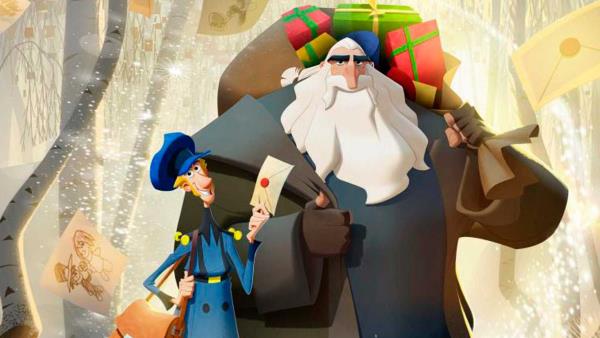 Tips for learning Spanish
Besides all these wonderful ways, there are other things you can do to learn Spanish. You don't have to confine your education to an online environment. And even if you do, there are alternatives to what we've suggested.
Be organized: this tip is vital if you are not organized by nature. It is extremely easy to become a mess. And once you've embraced the chaos, it is difficult to let it go. You should teach yourself some discipline and organizational skills. They'll probably be useful in the future.
Join a study group or a community of students: you are not probably the only person studying Spanish. And it may be helpful to find a group of other students to share doubts and questions regarding the Spanish language.
Set a cozy place to study: find a place far from any distractions. It is important to feel comfortable and calm if you want to be able to focus.
Travel abroad and meet the locals: maybe it is a pretty unconventional way of studying but it will create unforgettable memories. The best way to achieve the highest level is to practice, and there's no better way to practice than when your life depends on it. Engage with the locals, try new things and live a full-Spanish experience.
Find a language exchange partner: studying online can make you feel lonely or isolated. It can be fun to meet someone else to practice Spanish. There are a lot of apps that can help you find a partner who is also looking to practice your native tongue. This is not only a good way to practice speaking, but it is also great to make new friends and experience new things.
Listen to Spanish music: this is something you can do on the side. There are so many great Spanish artists and songs that can appeal to you. If you like a song or an artist, you can look up the lyrics and train your ear to the way they pronounce the words.
Find time to study for small lessons of grammar and vocabulary: you must get a routine, a habit of studying. Train your body and mind to study for a brief time every day. This will help you build a solid study plan.
Practice all the skills: listening, speaking and writing. It's fine to learn new vocabulary and study the different grammatical structures and verb tenses. However, you need to be able to apply all this knowledge for example in the way you speak or write.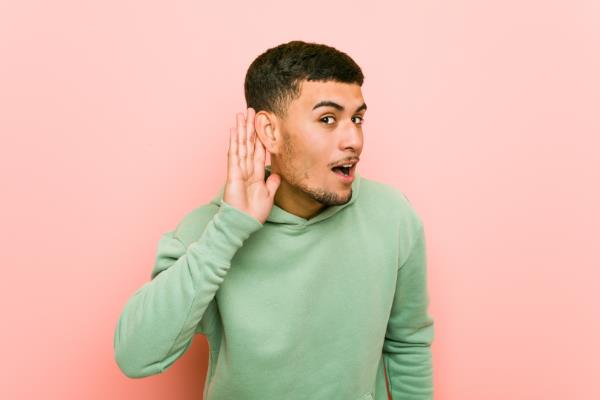 Now you've been informed about all the options available. It is up to you to make a sensible decision. You can try and see what speaks to you. But remember, some of the options listed can't provide formal education. They should be complemented with a private tutor or a more structured language course.
Having said that, hopefully, you are right now on the right track to accomplishing all your goals. So, are you ready to start learning?