Why learning with Classgap?
Satisfaction guaranteed
If you're not completely satisfied after your first class, we'll refund your purchase. more info
If you didn't do the lesson, it's cancelled or you are not completely satisfied within 24 hours passed your first lesson, we'll help you find a new tutor or refund your purchase.
Change the date at any moment
You will be able to reschedule the class if you can't assist.
Pay once you've received the lesson
We will make the payment of the lesson when finished more info
You will need to enter your payment details. In the case of individual class bookings the amount will be charged at the time of the class, but in the case of packs the payment is made in advance.
Teaches
over 3 years of experience teaching online classes
English

Elementary/A1-2, Intermediate/B1-2, Advanced/C1, Proficiency/C2

French

Elementary/A1-2, Intermediate/B1-2
Speaks
SpanishNative
EnglishFull proficiency
FrenchFull proficiency
Education
Certification
Bachillerato de Ciencias Sociales y Humanidades
Certification
Curso de Trastornos de la alimentación
Certification
Curso de Alimentación y Dietética
Certification
Curso de Escaparatismo de tiendas de ropa, calzado y complementos + Técnicas de Marketing
Studying
view all
Presentation
I am a dynamic, responsible, hardworking young girl who thinks that the "traditional" way of teaching is not the most effective. While it has its positive side, it also has its negative side. I believe in a more dynamic, playful and not so "squared" educational method. I trust in "learning by having fun."
Book an online lesson
(The calendar displayed shows your local time)
Rita accepts booking with at least 24 hours in advance.
| hours | Monday | Tuesday | Wednesday | Thursday | Friday | Saturday | Sunday |
| --- | --- | --- | --- | --- | --- | --- | --- |
About me (pictures, hobbies, extracurricular interests...)
natación
baloncesto
lectura
música
derecho
política
psicología
dietética
viajar
arte
educación
artes plásticas
manualidades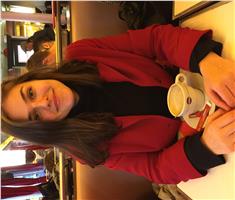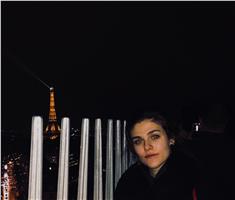 Reviews
Sara Botana
Me encanta como explica. Me ha ayudado en diversas materias, pero sobre todo en Filosofía y lenguas (Inglés, Francés, Castellano...). Es una chica muy coherente y agradable. Siempre acaba consiguiendo que se entienda la materia y eso es gracias a su gran capacidad y a su interés por enseñar.
Cristina
Rita..solo tengo buenas palabras hacia ella! La conocí a través de una amiga y quedé encantada con ella, una chica muy agradable y majísima. Siempre pendiente de los exámenes y de llevar todos los trabajos y deberes al día. Me gustó mucho cómo explicaba, muy natural y ameno.
Marina
Tenía problemas con entender varias cuestiones del temario de matemáticas de Segundo de bachiller y Rita me lo ha sabido explicar muy bien porque es una persona con la que coges confianza muy rápido y te sientes totalmente seguro de decirle todas las dudas que puedas tener. Además, tiene mucha paciencia y señora a explicar detenidamente cada concepto hasta que lo entiendes
The description has also been written in other languages, click here to read them all
Frequently Asked Questions
• Can I cancel a booking?
Yes, you can cancel booking up to 8 hours before the lesson starts, indicating the reason for the cancellation. We will study each case personally to carry out the refund.
• How do I pay for the lesson?
At the time you select a lesson or package of hours, you will make the payment through our virtual payment service. You have two options:
- Debit / Credit
- Paypal
Once the payment is settled, we'll send you an e-mail with the booking confirmation.
• Can I modify a booking?
Yes, something unexpected can always happen, so you can change the time or day of the lesson. You can do it from your personal area in "Scheduled lessons" through the option "Change date".
• How does a lesson at Classgap happen?

The class is done through classgap's virtual classroom. Classgap was developed specifically for educational purposes, including many useful features such as: digital whiteboard, online text editor, webcam, screen sharing and many more.