What are online English classes for adults like?
September is a month of change and although it is not the official start of the year, many people take it as a new beginning, an opportunity to start again, get into new routines, change bad habits and evolve personally and professionally.
Although you may have been told that there is a perfect age to learn English, don't believe it. It is true that if we are exposed to another language from an early age it will be easier for us to assimilate it, but as adults you can also achieve it.
If you have never studied English, don't be discouraged. This is your chance to learn! With Classgap's English classes for adults you will be motivated to learn English again. Take advantage of all the benefits of online education and change your view of English.
You will be able to choose from hundreds of teachers specialised in teaching English to adults, you just have to enter Classgap and find the one that best suits you and your learning objectives. It is possible to learn Spanish from scratch as an adult and at Classgap we will prove it to you!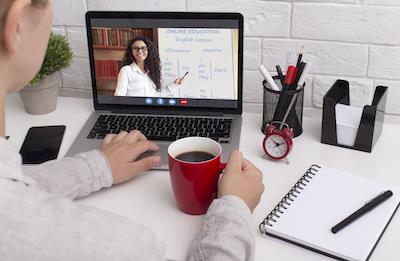 5 Reasons to sign up for English classes for adults
English classes for adults are useful for obvious reasons, such as learning one of the most widely spoken languages in the world, travelling, communicating with people from other countries, studying abroad, etc. But they are also a necessary resource if you want to develop a successful career, whatever your field.
Be more competitive in the job market: The vast majority of companies that exist today and that have a good position in the market require their employees to have a minimum knowledge of English. If you are looking for a new job opportunity, having a good level of English will open doors, allow you to go to job interviews with more confidence and stand out from the rest of the candidates. In short, it will give you a better life.
Consolidate or improve your job: You may not be looking for a new job but you may want to consolidate your current position, get a better salary or greater recognition within your company. Signing up for adult English classes will give you the improvement you are looking for. Having English language skills will give you points to become an essential member of your company, if you have international business relationships you will be able to participate in them and communicate with foreign agents without any problem.
Removing communication barriers in your sector: Whatever sector you work in, innovation and change will be a constant in your professional life.It is important that you are up to date with the latest developments in your area of specialisation, and English can be a key factor in these cases as many of the articles and online training courses will be in this language.
Access to technical or scientific knowledge: If you like to keep up to date with what is happening in the business and professional world, whether it is within your area of work or not, knowing English will allow you to achieve a more global vision and knowledge of current affairs. Don't just take in a small part of the information, sign up for English classes for adults and expand your knowledge of the language and the world in general. You will understand any article, magazine, webinar or publication.
Stimulate your cognitive development: Studying a second language favours the cognitive development of our brain, rejuvenates our neurons and keeps us awake. It is so important for our proper functioning that there are even scientific studies that link it to an increase in grey matter density, an increase in brain activity and some research even suggests that studying a second language can delay the onset of diseases such as Alzheimer's and dementia.
Don't miss this blog if you want to know how studying English can help you grow professionally.
How to make time to learn English for adults
Listen to podcasts on the way to work: Podcasts are here to stay in the world of multitasking and are an ideal complement to any activity that doesn't require a great deal of mental concentration. Long traffic jams on the way to work, on the bus or on the train in the morning, are places where you tend to waste time looking through the window and, in fact, if you take advantage of them, they are a great opportunity to learn English.
Use apps that measure your performance and your learning curve: If your weak point is organisation, don't despair, nowadays there are millions of apps that will help you with this task. We are sure that, if you try them, they will become your favourite tool, help you manage your study time and keep your motivation high by showing you your progress with your adult English classes.
Find your english teacher for adults
Optimise your time: There are millions of daily activities that are a waste of time. For example, checking social networks, watching TV, sleeping extra hours... these are small whims that, if you manage to sacrifice them, will give you a lot of extra time per day that you can invest in your English classes for adults. To gain some extra time, it is also advisable to make small changes to your routine such as preparing lunch for the week or getting up an hour earlier.
Find ways to practise in real life: Combining your social life with your studies is always a good idea, find people with whom you can practise your English and have a good time. If you are a self-study person try practising the language in your head, speak out loud, try to communicate with your family in English even if they don't take you seriously, mentally describe everything you do during the day and do it in English. You will see how every little gesture adds up and helps you improve your English.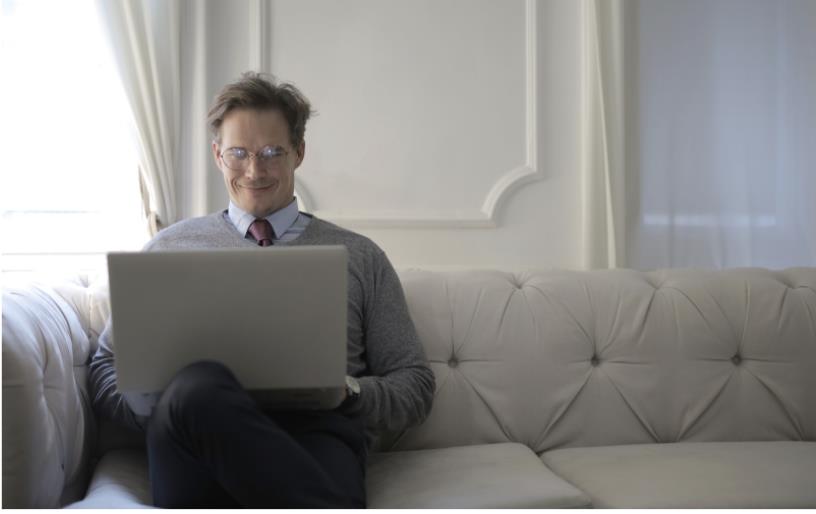 How are the English classes for adults at Classgap?
We've already convinced you and you want to sign up for English classes for adults but you don't know which method to choose or where to start. Nowadays there are millions of online platforms and resources where you can get lost for hours looking for something that suits you, we want to make it easy for you and that's why we're going to tell you what Classgap's English classes for adults are like and what our online platform is all about. It's super intuitive!
Flexible schedules: you can organise your English classes the way you want. You don't have to follow a specific timetable or location, you decide where and when you want to take your online classes.
Ease of use: you only need a computer and a good internet connection to access the platform. In addition, the steps to follow are very simple and are explained in detail.
Savings: you don't have to travel to the campus or spend money on books or materials, so you save both time and money. Moreover, you decide the maximum price you are willing to pay for your English class.
Book an online English class for adults
Personalised classes and by objectives: as these are private classes you will have the power to decide what you want to learn in each class. You set the pace and objectives of the classes, the teacher will simply help you to reach the goal you set for yourself.
Use of new technologies: you will get many resources in just one click. With the computer you won't need any more tools, everything will be there. You will be able to watch videos, documents, files, presentations...
Native teachers: one of the advantages of the online format is that it eliminates any geographical barrier, so you will have native teachers from all over the world at just one click and at no extra cost.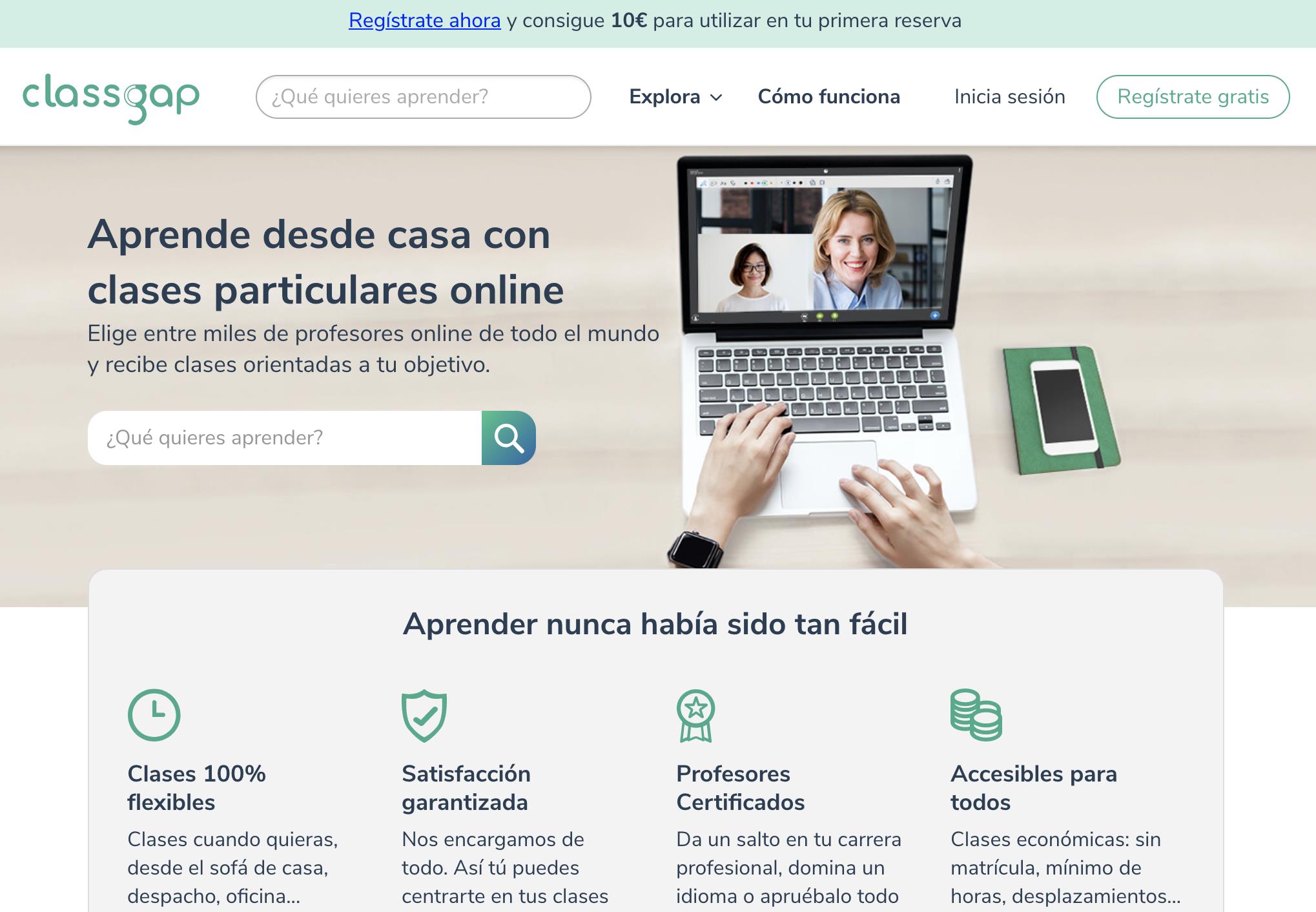 Do you want to know how it works? It's very simple, just follow these steps:
Choose your ideal teacher: you will be able to apply several filters to detail your search: your availability, the teacher's country or the maximum price per class you are willing to pay and you will have to base your choice on their descriptions and personal videos and on the comments they have from other students in their profile.
Select the time that suits you best: once you have chosen your ideal teacher, you will need to select the time that suits you best for your first lesson. You will see that all the teachers have a calendar with their availability.
Book a lesson with the teacher: most teachers have the option of 20 minutes free of charge. Take advantage of this option to get to know each other better and show them your goals and objectives.
Take the class: Classgap has its own virtual classroom, so you will have at your disposal all the tools you need, a digital whiteboard, the camera to be in contact and a virtual chat among many other things.
Evaluate the teacher: once you have done the lesson, it is time to evaluate your teacher. Leave a comment on his/her profile to thank him/her for his/her work or to give other students who want to start a class with him/her an idea of what it will be like. The teacher will surely appreciate it!