Black Friday 2020 is here
Surely you've heard of Black Friday and if not, we'll explain what it is. It is celebrated the day after Thanksgiving, and opens the Christmas shopping season with great discounts!
It all started in the USA, but with globalization a lot of countries all around the world started to take it as an opportunity to offer great sales and discounts. Nowadays it has turned into a tradition that's globally extended.
In this crazy 2020, with the pandemic situation context, Black Friday will be more digital than ever. And that's why, in Classgap, we've decided to celebrate it in style. What if we put together a digital Black Friday and a digital platform such as Classgap? What can come out of this mix? Of course! A coupon to get -15 off.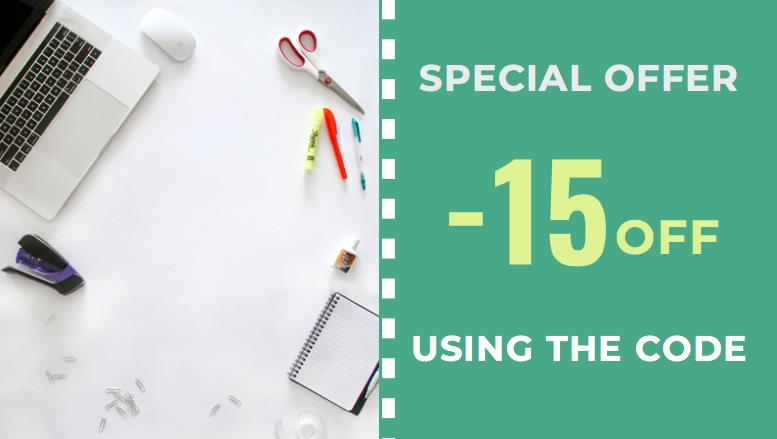 Use the coupon CLASSGAP15 to start learning a language online or improve your knowledge. Only 100 classes available at a discount... So, now is the moment!
Take note: this offer will be available from 23 to 30 of November 2020! You'll be able to use the coupon in every single assignment available in Classgap.
Would you like to learn a language online? In our platform you'll find a wide variety of teachers imparting different languages: Spanish, German, French, Chinese, Korean, Russian... choose the language and the level you have and you're ready to learn!
Would you rather have online school reinforcement classes? No problem. You will find very qualified teachers of all kinds of assignments, from computer, math or physics classes to history or literature review classes.
Are you feeling creative and prefer to learn music? Classgap classes have no limits! You can take guitar lessons, singing, dancing ... use the coupon with whatever you want.
Take advantage of Black Friday at Classgap and use this -15€ discount by booking the class you are interested in!
If you are new in here and do not know how does Classgap work , here you have 3 simple steps you might follow:
Search for your perfect tutor: Sign up for free and search through our wide range of teachers to find the one that best suits your needs. You can use the filters provided to find your perfect teacher.
Book the class: once you have selected your ideal teacher, book a class with him/her. When it comes to booking, click on the tab "Do you have a coupon?" and add the code CLASSGAP15 to enjoy the -15€off.
Do the class: Once you take the class you will be able to access all the tools available in the virtual classroom. Our virtual classroom has everything you need: video conferencing, digital whiteboard, online document editor, Google Drive and Youtube integration. This way the teacher will talk to you as if he/she was there with you.
Finish the class and evaluate your teacher: When you finish the lesson remember to leave a comment so other users can know about your experience.
Have you ever thought about the advantages of taking online classes? Here we explain why it is the most comfortable and safe method to learn, such as the keys of online education. One you start learning online, you'll never stop!
Flexibility: Online education is the best option to combine studies and other activities. All you need is a computer and a good Internet connection. Additionally, in Classgap, you choose the time you want to take your lessons depending on your availability.
Variety of subjects: you can learn whichever subject you want, as the online method offers a wide range of choices, from languages to music or even painting. In Classgap we have many subjects that are not taught in schools, colleges or universities… and with the best tutors!
Savings: with online classes you can avoid trips and save on public transport or fuel. It's the cheaper method that exists, as the price of the classes gets more economical.
Quality education: the online private classes allow to adapt the rhythm of the lessons to the needs of the student. Moreover, you will be taught by a verified teacher who will be looking after you all the time, so that your lessons are completely personalized classes.
If you decide to start learning online in Classgap, you'll find many tools that will for sure improve your experience when taking online lessons. You can check the prices and schedules of each teacher located in our grids and book the day and time that suits you best. It is a good time to start learning, so don't miss the opportunity to take online classes with the discounts of Black Friday 2020!
If you hadn't tried Classgap because you'd rather learn through free methods, you don't have any excuse now! Enjoy the -15 off of this Black Friday 2020 in Classgap and book now your first class (which for sure won't be the last!).