Why learning with Classgap?
Satisfaction guaranteed
If you're not completely satisfied after your first class, we'll refund your purchase. more info
If you didn't do the lesson, it's cancelled or you are not completely satisfied within 24 hours passed your first lesson, we'll help you find a new tutor or refund your purchase.
Change the date at any moment
You will be able to reschedule the class if you can't assist.
Pay once you've received the lesson
We will make the payment of the lesson when finished more info
You will need to enter your payment details. In the case of individual class bookings the amount will be charged at the time of the class, but in the case of packs the payment is made in advance.
Teaches
over 3 years of experience teaching online classes
Portuguese

Elementary/A1-2, Intermediate/B1-2, Advanced/C1, Proficiency/C2

Hi everyone! My name is Rita, and I am from Leiria, a city by the coast in Portugal. When I was studying languages, I'd discovered my passion about teaching, and since then I have been enrolled in teaching Portuguese to foreign people. In my classes I like to correspond to the necessities and interests of the students, and depending of it and the level that they have, I'll guide them to the best way to develop the Portuguese language and culture. I like to give relaxed classes, focusing the dialog between student(s) and teacher. All the material are made for me and corresponding to the level and necessities of the student.
Speaks
SpanishFull proficiency
PortugueseNative
EnglishWorking proficiency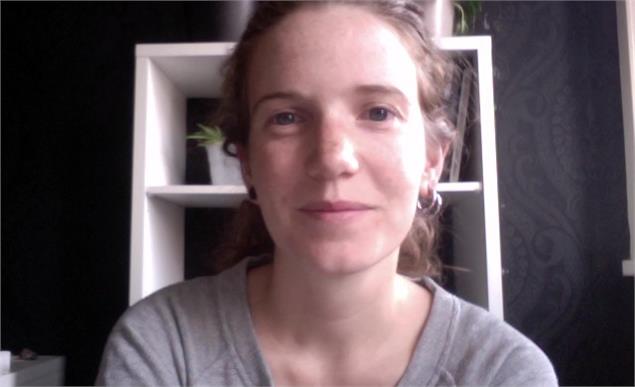 Education
Degree - B.A.
Línguas Modernas, Espanhol e Português
Master/Postgraduate
Ensino de português língua não materna
Presentation
Hi everyone! I believe that the best way to learn a language is by using it. So my classes are focused in a communicative approach, and entirely taught in the target language. I don't pretend to bore my students with to many rules or grammar explanations, but if they need it, i'll be there to explain everything. My method will vary depending of the needs of the students, I like to do a personal path for each student to know the best way to help her or him to improve all the competences in the target language.
Book an online lesson
(The calendar displayed shows your local time)
Rita accepts booking with at least 2 hours in advance.
| hours | Monday | Tuesday | Wednesday | Thursday | Friday | Saturday | Sunday |
| --- | --- | --- | --- | --- | --- | --- | --- |
About me (pictures, hobbies, extracurricular interests...)
Leitura
Escrita Criativa
Yoga
idiomas
Permacultura
cocina
ecología
veganismo
mascotas
Reviews

Lina
13 reviews
Muy buena en su trabajo y muy comunicativa. Explica todo muy bien y sabe acoplarse a las necesidades de sus alumnos.

Ana Rodríguez
8 reviews
Rita está dando clases a mis hijos y considero que está haciendo muy buen trabajo. Combina diferentes formas de trabajo para hacerlo dinámico. Ella utiliza solo el portugués y espero que mis hijos vayan haciéndolo también poco a poco. Agradezco los resúmenes de las clases que comparte conmigo para que puedan seguir practicando durante la semana. Tengo confianza en que van a aprender mucho con ella y espero que sigan durante mucho tiempo con sus clases con Rita.😀

Carlos González Hernández
18 reviews
Rita is a great teacher, who always designs motivational activities that are close to the interests of the students. She teaches you in a progressive and effective way.
The description has also been written in other languages, click here to read them all
Frequently Asked Questions
• Can I cancel a booking?
Yes, you can cancel booking up to 8 hours before the lesson starts, indicating the reason for the cancellation. We will study each case personally to carry out the refund.
• How do I pay for the lesson?
At the time you select a lesson or package of hours, you will make the payment through our virtual payment service. You have two options:
- Debit / Credit
- Paypal
Once the payment is settled, we'll send you an e-mail with the booking confirmation.
• Can I modify a booking?
Yes, something unexpected can always happen, so you can change the time or day of the lesson. You can do it from your personal area in "Scheduled lessons" through the option "Change date".
• How does a lesson at Classgap happen?

The class is done through classgap's virtual classroom. Classgap was developed specifically for educational purposes, including many useful features such as: digital whiteboard, online text editor, webcam, screen sharing and many more.