Why learning with Classgap?
Satisfaction guaranteed
If you're not completely satisfied after your first class, we'll refund your purchase. more info
If you didn't do the lesson, it's cancelled or you are not completely satisfied within 24 hours passed your first lesson, we'll help you find a new tutor or refund your purchase.
Change the date at any moment
You will be able to reschedule the class if you can't assist.
Pay once you've received the lesson
We will make the payment of the lesson when finished more info
You will need to enter your payment details. In the case of individual class bookings the amount will be charged at the time of the class, but in the case of packs the payment is made in advance.
Márcia
She's from Brazil , currently lives in Argentina
Teaches
over 5 years of experience teaching online classes
Portuguese

Elementary/A1-2, Intermediate/B1-2, Advanced/C1, Proficiency/C2
Speaks
SpanishFull proficiency
PortugueseNative
EnglishBasic knowledge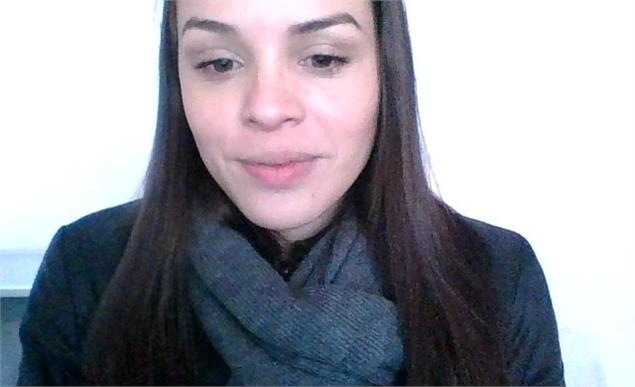 Education
Degree
Licenciada en Letras Portugués- Español (UENP-Universidade Estadual do Norte do Paraná)
Certification
Certificado CELU Nivel Avanzado
Certification
Sobre tópicos, estereotipos y cómo abordarlos en la clase de español. Ofrecido por: CONSEJERÍA DE EDUCACIÓN DE LA EMBAJADA DE ESPAÑA EN BRASIL - Brasil
Certification
La fonética en el aula de ELE. Ofrecido por: CONSEJERÍA DE EDUCACIÓN DE LA EMBAJADA DE ESPAÑA EN BRASIL - Brasil
Certification
Enseñar gramática en la clase de ELE. Ofrecido por Ofrecido por: CONSEJERÍA DE EDUCACIÓN DE LA EMBAJADA DE ESPAÑA EN BRASIL - Brasil
Certification
Curso Português para Estrangeiros: formação de profissionais e mercado de trabalho - Somática Educar
view all
Presentation
The tutor wrote the presentation in another language Translate it online
Olá! Meu nome é Márcia, sou brasileira, professora de português e espanhol. Trabalho com aulas de português e espanhol desde 2014 em escolas públicas e institutos no estado de São Paulo - Brasil; também tenho experiência com aulas de português para estrangeiros em institutos privados na província de Córdoba - Argentina, onde vivo atualmente. Amo a docência e por isso busco sempre atualizar-me para oferecer o melhor de mim aos meus alunos! Você me apresentará suas necessidades e objetivos com relação ao idioma e eu planejarei nossas aulas tratando de supri-los!
Book an online lesson
(The calendar displayed shows your local time)
Márcia accepts booking with at least 12 hours in advance.
| hours | Monday | Tuesday | Wednesday | Thursday | Friday | Saturday | Sunday |
| --- | --- | --- | --- | --- | --- | --- | --- |
Reviews

Emily von Eschwege
Marcia is incredible. I adore her for her patience and professionalism, her big smile and her expertise in Portuguese and Spanish. Marcia you are simply the best and I am so happy to have you. Marcia voce esta lo mejor (portugnol yes hahaha) y estou muito grateful tenerte.

alejandra
Me encanto! Esperando ansiosa mi segunda clase.

Dayana Cordero Castro
Muy buena y paciente
The description has also been written in other languages, click here to read them all
Frequently Asked Questions
• Can I cancel a booking?
Yes, you can cancel booking up to 8 hours before the lesson starts, indicating the reason for the cancellation. We will study each case personally to carry out the refund.
• How do I pay for the lesson?
At the time you select a lesson or package of hours, you will make the payment through our virtual payment service. You have two options:
- Debit / Credit
- Paypal
Once the payment is settled, we'll send you an e-mail with the booking confirmation.
• Can I modify a booking?
Yes, something unexpected can always happen, so you can change the time or day of the lesson. You can do it from your personal area in "Scheduled lessons" through the option "Change date".
• How does a lesson at Classgap happen?

The class is done through classgap's virtual classroom. Classgap was developed specifically for educational purposes, including many useful features such as: digital whiteboard, online text editor, webcam, screen sharing and many more.