Online classes

in our virtual classroom
Flexible classes

adapted to your day-to-day

life
We promise

, if you are not satisfied we will refund your money.
Presentation
Saxophonist, flute player and composer with studies at the Católica del Perú University and at the Manuel de Falla Conservatory of Buenos Aires, Argentina. I manage my saxophone classes with a dynamic approach addressing not only the saxophone but also reading, theory and improvisation that I consider are an important part of the development of the student. I design my lessons with a personal work plan for each student and offer music lessons and tutorships on many topics: Composing Arranging and modern harmony Theory Sight-reading Ear training Please feel free to contact me. I hope to hear from you soon.
Teaches
over 5 years of experience teaching online classes
Saxophone

Beginner, Intermediate, Advanced

Music

Beginner, Intermediate, Advanced

Music teacher with more than 5 years of teaching experience. I'll wait for you.
Speaks
SpanishNative
EnglishWorking proficiency
Education
Degree - B.A.
Saxofón Jazz
Studying
Book an online lesson
(The calendar displayed shows your local time)
Jordan accepts bookings with at least 24 hours in advance.
| hours | Monday | Tuesday | Wednesday | Thursday | Friday | Saturday | Sunday |
| --- | --- | --- | --- | --- | --- | --- | --- |
Can't find the availability that suits your needs?
About me (pictures, hobbies, extracurricular interests...)
Música
jazz
saxofón
Rock
pop
Saxo
Teoria musical
Soul
clarinete
flauta traversa
Solfeo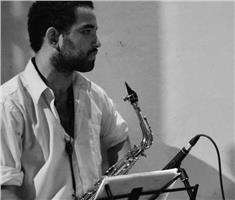 Reviews

Jordan
I have just had my first class with Jordan, which I have enjoyed so much. He is very friendly and very knowledgeable and has tailored the lesson to suit my level and needs. Definitely recommended

Melissa
Las clases son muy dinámicas, el profe es muy paciente, después de dos meses de trabajo estoy tocando mis primeras canciones, super contenta!!!!
The description has also been written in other languages, click here to read them all
Frequently Asked Questions
• Can I cancel a booking?
Yes, you can cancel booking up to 8 hours before the lesson starts, indicating the reason for the cancellation. We will study each case personally to carry out the refund.
• How do I pay for the lesson?
At the time you select a lesson or package of hours, you will make the payment through our virtual payment service. You have two options:
- Debit / Credit
- Paypal
Once the payment is settled, we'll send you an e-mail with the booking confirmation.
• Can I modify a booking?
Yes, something unexpected can always happen, so you can change the time or day of the lesson. You can do it from your personal area in "Scheduled lessons" through the option "Change date".
• How does a lesson at Classgap happen?

The class is done through classgap's virtual classroom. Classgap was developed specifically for educational purposes, including many useful features such as: digital whiteboard, online text editor, webcam, screen sharing and many more.