Why learning with Classgap?
Satisfaction guaranteed
If you're not completely satisfied after your first class, we'll refund your purchase. more info
If you didn't do the lesson, it's cancelled or you are not completely satisfied within 24 hours passed your first lesson, we'll help you find a new tutor or refund your purchase.
Change the date at any moment
You will be able to reschedule the class if you can't assist.
Pay once you've received the lesson
We will make the payment of the lesson when finished more info
You will need to enter your payment details. In the case of individual class bookings the amount will be charged at the time of the class, but in the case of packs the payment is made in advance.
Teaches
over 10 years of experience teaching online classes
English

Elementary/A1-2, Intermediate/B1-2, Advanced/C1, Proficiency/C2

I have taught hundreds of students from all walks of live. I teach all levels. My students not only have passed exams but also all kinds of professional challenges. Many of them have been able to do presentations in front of an audience and they have being able to answer questions. I will not only teach you how to speak English, I will also give you the confidence to do it in public. In my time as a teacher I have taught Doctors, Engineers, Scientist, Teachers, Architects and business people in general.
Speaks
EnglishBilingual
SpanishBilingual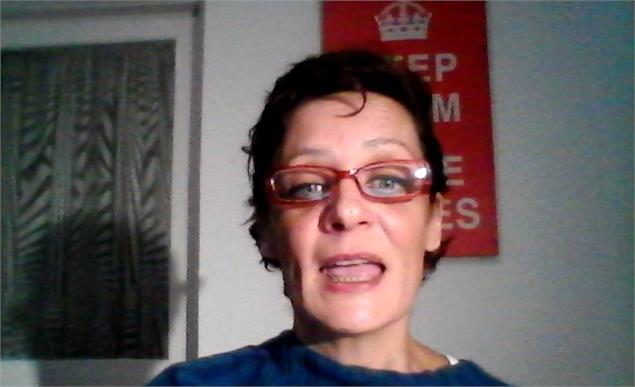 Education
Master/Postgraduate
Business Management
Master/Postgraduate
Vaughan Systems Methology
Presentation
For many years I worked for Vaughan Systems in the main land, right now I live in Tenerife and I work as a free lance teacher, I am still using the Vaughan systems method as I believe it is one of the best I've known. I am bilingual English/Spanish. My classes are very dynamic and you will not have a minute to get bored. I will provide you with all the necessary material and I will also give you homework for you to do in your own time.
Book an online lesson
(The calendar displayed shows your local time)
Carmen accepts booking with at least 1 hour in advance.
| hours | Monday | Tuesday | Wednesday | Thursday | Friday | Saturday | Sunday |
| --- | --- | --- | --- | --- | --- | --- | --- |
About me (pictures, hobbies, extracurricular interests...)
Reading
Cooking
Walking
Psicology
Reviews

Mercedes
Me ha gustado mucho la entrevista con Carmen, me ha dado muy buena impresión. Gracias

Juan Pedro García
7 reviews
Muy buena impresión de la clase de prueba, ya reserve una nueva clase con ella.

sarabiadd
4 reviews
Aunque ha sido la primera vez y la primera experiencia de este tipo, reconozco que la metodología que plantea Carmen es muy recomendable para lograr mejorar la agilidad mental a la hora de hablar inglés, además de repasar todo lo fundamental del idioma. Considero muy positiva la experiencia. Carmen es muy buena profesora.
The description has also been written in other languages, click here to read them all
Frequently Asked Questions
• Can I cancel a booking?
Yes, you can cancel booking up to 8 hours before the lesson starts, indicating the reason for the cancellation. We will study each case personally to carry out the refund.
• How do I pay for the lesson?
At the time you select a lesson or package of hours, you will make the payment through our virtual payment service. You have two options:
- Debit / Credit
- Paypal
Once the payment is settled, we'll send you an e-mail with the booking confirmation.
• Can I modify a booking?
Yes, something unexpected can always happen, so you can change the time or day of the lesson. You can do it from your personal area in "Scheduled lessons" through the option "Change date".
• How does a lesson at Classgap happen?

The class is done through classgap's virtual classroom. Classgap was developed specifically for educational purposes, including many useful features such as: digital whiteboard, online text editor, webcam, screen sharing and many more.