The 10 best alternatives to Italki for online language lessons
If you are searching for a platform to learn a new language ​​online, you might have come across Italki.
It is a platform that offers personalized learning according to your needs, with more than 10,000 native teachers of any language. Classes are taught online and, as a student, you can choose the hours and the price per hour.
But, is Italki the only platform that offers all these services?
The answer is no; there is a whole world of alternatives, and in this article we open the door to that world!
Here we present you the 10 best alternatives to Italki, which may be useful for your search on online classes, whether you just want to learn a language or other subjects you are interested in. Keep reading!

Such as Italki, Classgap also offers private online lessons personalized for each student. You can choose your teacher, schedule the hours, and filter the price of each class.
Although they may seem like similar platforms, let us explain why Classgap is the best alternative to Italki.
Wide diversity of subjects:
Classgap offers more than online language classes. In fact, it offers more than 100 subjects and disciplines, including School and Academic Support and even online lessons for companies:
Languages: A total of 40 languages are taught, with a wide selection of native teachers. Visit Classgap to see all the languages you can learn.
Tutoring: if you need help with your studies, then this is the section for you. You'll find math classes, physics, history…
Music: That's right! You can also learn music online. Classgap offers a variety of music teachers from guitar to singing teachers.
So our platform is way more complex than that of Italki, as you can learn a range of subjects, not just languages.
Own virtual classroom:
Classgap has its own virtual classroom, designed with everything needed for the best online class experience.
Video call, a chat, digital whiteboard, a collaborative text editor and screen sharing are just a few examples of the different tools that facilitate the interaction between student and teacher.
Wide variety of teachers:
In Classgap you will find teachers with different experiences, teaching methods, hobbies and levels. You can choose the teacher that best suits your needs. You can also compare reviews and rankings which previous students have left.
So with the filters offered in Classgap, you will find your perfect tutor.
Find your perfect language tutor!
You make your own schedule:
When choosing your teacher, you will see this filter called "Your availability" which allows you to adjust the classes with the hours that suits you better. Classgap will adapt the search and select the teachers who have that time slot available.
In addition, when selecting a class, each teacher has their own calendar where you can choose the time that best suits your availability.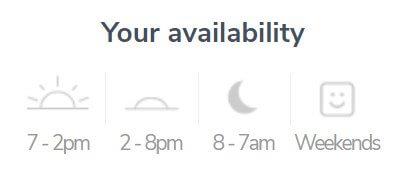 Choose the payment method:
Classgap offers different options when making the payment. You can pay by hours, by classes or by class packs (either 5 or 10 classes). Payment is 100% secure and can be made through the virtual POS with a debit/credit card or Paypal.
Moreover, online classes are the cheaper option, with lessons starting at $7 an hour.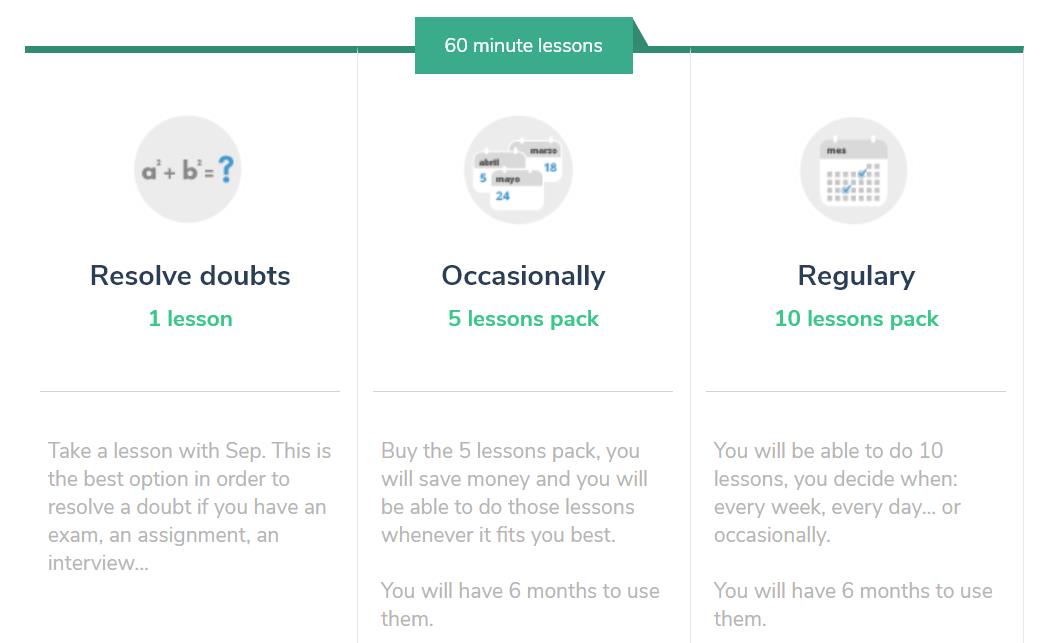 Your class, your teacher:
Classgap lessons are private, so you will have personalized attention from your teacher with whom you can share any questions.
If what you are looking for is an online private lessons platform that offers you 1-on-1 tailor-made lessons based on your goals and interests with flexible hours, expert teachers of any subject and at the best price, Classgap is definitely your best option.

TusClasesParticulares is the leading portal for private classes in Spain, with more than 500,000 teachers and 789,595 class announcements for more than 350 subjects.
The platform performance is the same as Classgap, since both platforms are connected. The difference is that TusClasesParticulares also offers face-to-face classes, either private or in groups.
So as a student, you can learn quickly and effectively, choosing the teacher that best suits your needs. The location of the class is also in your hands:
At the teachers home
At home
In a public place
In an academy
Online
If you want to learn a language or any other subjects with a more personalized touch, then the ideal option is the private face-to-face classes offered by TusClasesParticulares.

If you thought that learning languages ​​and playing at the same time was not a possible option, Duolingo wants to prove the opposite.
It is an app that allows you to have fun while learning, rewarding the correct answers and leveling up once the lessons are completed correctly. The exercises are adapted to each user, who can check the answers in the moment and keep improving.
Depending on your native language, Duolingo offers different languages to learn, including English, French, German, Portuguese, Catalan, Esperanto, Guarani, and Russian among others.
Duolingo should be used as a complement to other learning platforms such as Classgap, where you will learn the basics of the language. If you want an entertaining complement to your classes to keep improving wherever you want, Duolingo can be of great help.

The most famous online self-taught learning tool. Who has not watched tutorials on YouTube searching for help? Or just for curiosity? Aside from saving lives sometimes, Youtube can also be a great tool to learn both languages ​​and subjects online.
You can watch videos of people teaching all kinds of subjects, watch movies with subtitles, search for a specific topic to learn ... The content is endless, and also free. And that is why the famous platform could not be missing from this list.
Even though, YouTube should be seen as a self-taught and reinforcement learning tool. The teacher behind the screen is not going to interact with you, so if you want to solve any question, this one will not be able to help you.
The name speaks for itself since HiNative is an application to communicate with native people. You will have to create your own profile selecting your native language and the one you are willing to practice or learn.
From then on the interaction between users begins. You will have to complete the question templates offered by HiNative and post them on the platform. The other native users will answer the questions in their own language.
The users of the application are not teachers, they just have an excellent level of the language. HiNative takes advantage of this and makes it an opportunity to exchange native words and expressions.
The platform works with more than 110 languages, which makes it one of the most linguistically diverse platforms.
If what you want to learn is native expressions and words by speaking to native people, then this is the platform for you! On the other hand, if you want to establish a solid grammatical base, we recommend you to start using another platform such as Classgap.

"The speaking world". This is how the company introduces itself, and it makes perfect sense if it is a social network that connects, not only languages but also hobbies and interests of people from all over the world.
The user will not find a teacher on the other side of the screen, but a person with knowledge of any subject. The goal of this network is to connect people from all over the world so they can chat and learn about different topics.
The communication tool between users is the video call; a day is scheduled, a price is set, and learning begins.
If what you are looking for is to expand your circle while learning about different topics with people from all over the world, this is your network. If what you are looking for are online lessons taught by professionals, Palabea is not your best option.

The "Tinder" of languages ​​has its own name and it's called Tandem. This application is used to do a "match" between people interested in learning in the native language of one another. Therefore, the application connects these two people, creating a win-win relationship.
As being an exchange platform, the app is free unless a professional user wants to give private lessons in a specific language.
It is an international app where people from all over the world can participate. Therefore, the languages available are as many as exist. ​​
Talking with a native person of the language you are learning is very useful when you already have established knowledge and what you want is to perfect it. To learn a language right from the start, we recommend starting with private lessons on platforms such as Classgap.

Without exiting the world of the apps, Mondly teaches users to speak up to 41 new languages. It is the first platform on the list that does not have a person behind the teaching, but a machine instead. It is all monitored with prepared lessons, grammar exercises and real conversations to evaluate the user.
The advantage of this application is that it is free with some purchase items. If you are looking for dynamic and entertaining lessons that teach you new words and expressions, this is your kind of application.
Even though, Mondly is purely digital and does not offer interaction with a person, which is always a disadvantage when it comes to learning a new language. Having a private tutor that adapts all the lessons to your needs will always be a great advantage for your improvement.

If you watch TV, you may have seen a Babbel commercial. It is probably the most known application for learning languages ​​due to its advertising investment.
This platform offers courses in 12 different languages, adapted to the user's level. The first step you'll have to do is to take a level test and then start with the lessons. You will be passing the next levels depending on your progression through the lessons.
The application is paid and does not offer personalized courses; the courses work by levels and are not taught by a teacher, unlike other platforms on the list. The format is not a game as it is in the case of Mondly, but an online course.
If what you are looking for is to learn a language right from the start through a paid application, this may be the one that better fits your expectations, as it adapts the lessons to your level.
But, as in the previous case, Babbel doesn't use teachers so the human interaction is missing, unlike other platforms such as Classgap.
So if you decide to learn a new language, take note that Babbel requires much more dedication and discipline.

It is the platform that differs the most from the others shown above. It is based on learning from movies and videos with subtitles and precise definitions of words explained in each context.
This way, the user learns certain expressions in an untraditional and highly didactic method.
If you are willing to learn native expressions and phrases while watching a movie on the sofa, this is your platform. But you are hardly going to learn grammar and establish a good linguistic base offered, for example, with private online lessons.
Our advice - learn with a private tutor online
As you can see, Italki is not your only alternative when we are talking about learning languages. There are alternatives with more tools that will facilitate your learning. You can either combine different platforms or choose the one that suits you better.
That is why our advice is for you to try Classgap, since it's the most complete platform in every aspect. It does not only offer online private language lessons but also a whole lot of other subjects which may be of your interest.
Moreover, Classgap is the only one that helps you find your perfect tutor, applying all different filters and letting you choose among all the possibilities.
Classgap also has the virtual classroom tool that offers many advantages for online learning.
We encourage you to enter the world of Classgap, it is never bad to try new things and you won't regret it for sure!