Online classes

in our virtual classroom
Flexible classes

adapted to your day-to-day

life
We promise

, if you are not satisfied we will refund your money.
Presentation
Learn Classical Greek and Latin actively, speaking, writing and listening. Get in touch :).
Hello! I am teacher of Latin and Classical Greek, the methodology that I follow to teach these dead languages ​​is their activation through speech and listening comprehension. That is, with me you will learn Latin and Classical Greek speaking and writing, as if they were a modern language. This allows the classes to be dynamic, entertaining and for the student to gain a better understanding of the language. It is a great opportunity for you to increase your abilities if you already know some or anything about these languages. You will not regret it.
Teaches
over 3 years of experience teaching online classes
Classic Greek

Beginner, Intermediate, Advanced

Learn Classical Greek and Latin actively, speaking, writing and listening. Get in touch :).
Speaks
SpanishNative
EnglishConversational skills
GermanConversational skills
Education
Degree
Licenciado En Letras Clásicas Por La Unam
Certification
Ancient Greek I In Polis Jerusalem
Degree
Licenciatura En Historia, Unam
Book an online lesson
(The calendar displayed shows your local time)
Erick accepts bookings with at least 30 minutes in advance.
| hours | Monday | Tuesday | Wednesday | Thursday | Friday | Saturday | Sunday |
| --- | --- | --- | --- | --- | --- | --- | --- |
Can't find the availability that suits your needs?
About me (pictures, hobbies, extracurricular interests...)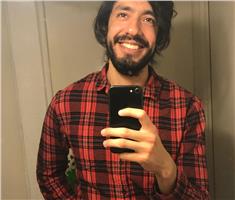 Reviews
Ben Yates
2 reviews
A great teacher of Greek. He will help you really learn the language.
Michel Pilon
It was great. Erick is very open and flexible.
Parvus Digitus III
2 reviews
Χαῖρετε, ῶ φίλοι! I am now only a few classes into my lessons with Erick, however, I feel confident in my saying that he is an effective and knowledgeable teacher. The classes have been informative, entertaining, and challenging. He presents the ancient language as a living language thereby making the lock the key. He is walking me through texts all the while asking questions and providing information in order to confirm that I am understanding the text and how the language itself is being used to convey its meaning. He obviously has spent time preparing each class prior to its beginning and I already have had experiences in which I ask a question only to have him pull up a pre-prepared PowerPoint with the grammar to answer my question. All and all, I am more than satisfied and looking forward to my future classes! αῦθις χάριν σοι έχω, ῶ διδάσκαλε!
The description has also been written in other languages, click here to read them all
Frequently Asked Questions
• Can I cancel a booking?
Yes, you can cancel booking up to 8 hours before the lesson starts, indicating the reason for the cancellation. We will study each case personally to carry out the refund.
• How do I pay for the lesson?
At the time you select a lesson or package of hours, you will make the payment through our virtual payment service. You have two options:
- Debit / Credit
- Paypal
Once the payment is settled, we'll send you an e-mail with the booking confirmation.
• Can I modify a booking?
Yes, something unexpected can always happen, so you can change the time or day of the lesson. You can do it from your personal area in "Scheduled lessons" through the option "Change date".
• How does a lesson at Classgap happen?

The class is done through classgap's virtual classroom. Classgap was developed specifically for educational purposes, including many useful features such as: digital whiteboard, online text editor, webcam, screen sharing and many more.