⏱ Usually respondswithin a few minutes!
🏆 Over 5 years of experience teaching online classes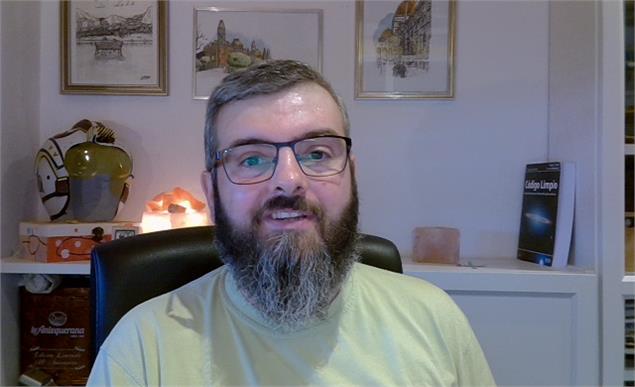 About me
The tutor wrote the presentation in another language Translate it online
Soy un veterano de la primera guerra de los navegadores y un superviviente a Internet Explorer. He estado en este mundo desde los tiempos de jQuery, antes de la primera version de Angular y he visto nacer a Vue, React y muchos otros. ¿Estás empezando? Permite que te guíe desde tus primeros pasos en HTML hasta publicar tu sitio a internet con integración continua y testing E2E. ¿Necesitas ayuda concreta con JavaScript, CSS/SCSS, metodologías, Testing E2E, buenas prácticas e incluso CI/CD con Ja...
Soy un veterano de la primera guerra de los navegadores y un superviviente a Internet Explorer. He estado en este mundo desde los tiempos de jQuery, antes de la primera version de Angular y he visto nacer a Vue, React y muchos otros. ¿Estás empezando? Permite que te guíe desde tus primeros pasos en HTML hasta publicar tu sitio a internet con integración continua y testing E2E. ¿Necesitas ayuda concreta con JavaScript, CSS/SCSS, metodologías, Testing E2E, buenas prácticas e incluso CI/CD con Jamstack? empecemos! En mis explicaciones me gusta aportar muchos ejemplos y analogías para que sea más fácil entender conceptos complejos.
Teaches
Computer Programming

Javascript
CSS
HTML
Web Development
Availability
(The calendar displayed shows your local time)
Choose the time that suits you best for your booking request
| hours | Monday | Tuesday | Wednesday | Thursday | Friday | Saturday | Sunday |
| --- | --- | --- | --- | --- | --- | --- | --- |
Can't find the availability that suits your needs?
Education
Degree - B.A.
Gs Desarrollador De Aplicaciones Web
Frequently Asked Questions
• Can I cancel a booking?
Yes, you can cancel booking up to 8 hours before the lesson starts, indicating the reason for the cancellation. We will study each case personally to carry out the refund.
• How do I pay for the lesson?
At the time you select a lesson or package of hours, you will make the payment through our virtual payment service. You have two options:
- Debit / Credit
- Paypal
Once the payment is settled, we'll send you an e-mail with the booking confirmation.
• Can I modify a booking?
Yes, something unexpected can always happen, so you can change the time or day of the lesson. You can do it from your personal area in "Scheduled lessons" through the option "Change date".
• Where are the lessons held?

The class is done through classgap's virtual classroom. Classgap was developed specifically for educational purposes, including many useful features such as: digital whiteboard, online text editor, webcam, screen sharing and many more. View virtual classroom