Why learning with Classgap?
Satisfaction guaranteed
If you're not completely satisfied after your first class, we'll refund your purchase. more info
If you didn't do the lesson, it's cancelled or you are not completely satisfied within 24 hours passed your first lesson, we'll help you find a new tutor or refund your purchase.
Change the date at any moment
You will be able to reschedule the class if you can't attend
Pay once you've received the lesson
The class will be charged for once the class has finished more info
You will need to enter your payment details in advance. In the case of individual class bookings the amount will be charged for at the time of the class, but if you purchase a pack of classes, the payment must be made upfront.
Antonella
She's from Belgium , currently lives in Spain
Teaches
over 10 years of experience teaching online classes
French

Elementary/A1-2, Intermediate/B1-2, Advanced/C1, Proficiency/C2

Spanish

Elementary/A1-2, Intermediate/B1-2, Advanced/C1
Speaks
SpanishBilingual
RussianConversational skills
EnglishBasic knowledge
FrenchNative
Education
Degree - B.A.
Periodismo Relaciones Públicas
Presentation
The tutor wrote the presentation in another language View the original text
Cela fait 12 ans que je vis en Espagne et j'ai plusieurs années d'expérience en tant que professeur de Français Langue Étrangère. J'ai pu travailler dans plusieurs académies et donner des centaines d'heures de cours particuliers. Mes classes sont à la fois didactiques et dynamiques. Je les adapte toujours aux besoins de l'étudiant. Je me considère une personne positive, énergique et j'aime transmettre mon amour pour les langues aux autres. Le français est ma langue maternelle mais je parle aussi couramment l'espagnol et le russe. Je me débrouille aussi en anglais. Je suis à ta disposition si tu souhaites suivre des cours d'espagnol en ligne! N'hésite pas à consulter les opinions de certains de mes anciens étudiants ;)
I have been living and working in Spain for 10 years as an FLE teacher. My classes are didactic and entertaining, always adapted to the needs of the student. I have experience in the creation of teaching material and I like to transmit all my energy and positivism when it comes to teaching. I can adapt to any level (beginner, advanced, EIO, FLE, official exams, ...) Ask for information without commitment!
Book an online lesson
(The calendar displayed shows your local time)
Antonella accepts bookings with at least 6 hours in advance.
| hours | Monday | Tuesday | Wednesday | Thursday | Friday | Saturday | Sunday |
| --- | --- | --- | --- | --- | --- | --- | --- |
About me (pictures, hobbies, extracurricular interests...)
Fitness
Cocina
Manualidades
Viajes
Reviews

lurienne
4 reviews
Cours pour ma fille de 8 ans, Antonella est un professeur très pédagogue, patiente et professionnelle ! Nous commençons mais ma fille a beaucoup accroché donc je recommande sans problème 😊

mgcasanova84
8 reviews
Antonella es una profesora excelente. Prepara cada clase con dedicación y se adapta al nivel de cada alumno. Las clases son muy amenas y siento que mejoro mi nivel de francés cada semana. Hacemos toda clase de ejercicios de gramática, redacción y conversación. Desde luego que la recomiendo tanto para nivel avanzado como para alguien que esté empezando.

Isabel
Seria, amable y atenta, las pocas clases que he podido dar con ella han sido muy cómodas y se me han pasado volando. Domina además perfectamente el castellano y tiene experiencia como profesora por lo que es muy paciente y dispone de materiales, trata de ayudarte y de adaptarse a ti según tu nivel y tus intereses. Ha sido mi primera prueba por este formato online y la verdad es que he quedado muy contenta. Recomiendo a Antonella totalmente.
The description has also been written in other languages, click here to read them all
Frequently Asked Questions
• Can I cancel a booking?
Yes, you can cancel booking up to 8 hours before the lesson starts, indicating the reason for the cancellation. We will study each case personally to carry out the refund.
• How do I pay for the lesson?
At the time you select a lesson or package of hours, you will make the payment through our virtual payment service. You have two options:
- Debit / Credit
- Paypal
Once the payment is settled, we'll send you an e-mail with the booking confirmation.
• Can I modify a booking?
Yes, something unexpected can always happen, so you can change the time or day of the lesson. You can do it from your personal area in "Scheduled lessons" through the option "Change date".
• How does a lesson at Classgap happen?

The class is done through classgap's virtual classroom. Classgap was developed specifically for educational purposes, including many useful features such as: digital whiteboard, online text editor, webcam, screen sharing and many more.
Other recommended online French teachers:
$11

/h
20 minute trial lesson
4,9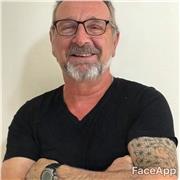 France
French
Classe pour tout les niveaux.
$19

/h
20 minute trial lesson
5,0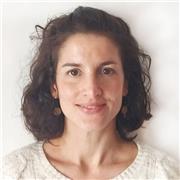 France
English, French
Hello! I am Minnie, a native French speaker with 2 master's degrees, in English and in French. I have experience teaching classes at all levels, bot...
$23

/h
20 minute trial lesson
4,8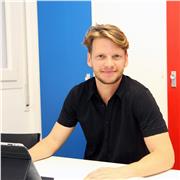 France
French
Bonjour My name is Benjamin and I am 37 years old. After a doctorate in law, I am a French teacher in Barcelona. Since November 2011, I have been teac...